Repetoire
Repetoire is suited to each occasion. Requests will be played and content will be taken from, Elton John, Billy joel, Frank Sinatra, The Carpenters etc, Songs from the shows, light classical and light jazz.
"Booking Robert was the best choice I made for the Ball, the music was beautiful and made a hectic and busy dining chamber into a relaxed and sociable environment.
I would definitely recommend him to any event.
Nadeem Alam
President
The Edward Bramley Law Society
University of Sheffield"
This is a recent letter I received for a wedding I played for
Hi Robert
Thank you so much for playing for Laura's wedding, I thought that the music was simply lovely and you played so well. Definitely a good decision.
The Arrival of the Queen of Sheba was brilliantly done on the rather limited organ at the church and I thought that you were extremely professional in everything you did. It is just a shame that church was too small to allow the magnificent Mendelsson to be fully appreciated as they scurried rapidly down the aisle after the service.
I am sorry I never got to talk to you, as you can imagine I was rather busy.
The rest of the day was fabulous, the weather held beautifully for the rather extensive photography session at the church and hotel and the reception was beautifully managed. Laura and Dave had a lovely day and everyone told me how much they enjoyed the service, music and address.
Thank you so much, I will recommend to all of my friends.
Kind regards
Pat
PatTemporal (Senior Business Analyst)
TELEPHONE ME ON 01302842703
Paul Delaney - Magician Shows available for both Adults and Children - Click on the photo -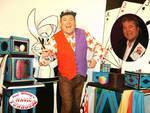 Do you need a Vicar - look no further

The Order of on call clergy

Rt. Rev. Ian Walton 01937 587265

fr.ian@tiscali.co.uk

www.oncallclergy.co.uk




Click here for more information

Here Are The Areas I will Cover:




Wedding pianist, Robert Baker can play relaxing, background piano music for your event, wedding reception or restaurant dinner party.

Top of page here